Need identification please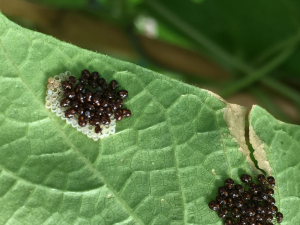 Observation - Need identification please - UK and Ireland. Description: I noticed these a few days ago on the underside of a Runner Bean leaf. They look very much like min
I noticed these a few days ago on the underside of a Runner Bean leaf. They look very much like mini ladybirds but i do not think they are as they appear to have gone straight from egg to beetle. When i first spotted them they were more orange but have turned a much darker colour today. They appear to have emerged from translucent cells with caps that appear to have a black T like mark on them.
A couple of years ago i had a lot of similar beetles which were slightly larger than ladybirds and seemed to have similar markings.
If anyone knows what these are i wlll be very grateful to hear.
Main navigation