Unknown crucifer similar to bittercress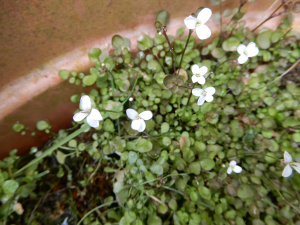 Observation - Unknown crucifer similar to bittercress - UK and Ireland. Description: We had a large flower pot containing a rather moribund rose sitting on our patio. The surface of th
We had a large flower pot containing a rather moribund rose sitting on our patio. The surface of the soil was covered in moss, liverworts and various seasonal weeds.
I noticed clumps of a small leaved plant growing on the soil in March this year and thought it was Hairy Bittercress, a common weed in our garden. But as it developed I realised it wasn't something I was familiar with.
The stems and leaves had a bronzy colour to them. The leaves were smooth, with 2 or 3 prs of leaflets and a larger terminal leaflet. The plant was mat forming and it was hard to pick out a single plant to photograph because they were so intertwined. The stems were slender and not very robust. But the most striking thing was that each stem only had a single flower on it. A typical 4-petalled crucifer flower, 3-4 mm across. The seed pods were just beginning to form when I last saw the plant. They were a flattened siliqua barely wider than the stem diameter, and appeared to have a single row of seeds. But I suspect they hadn't fully developed yet.
Main navigation