PhoneCam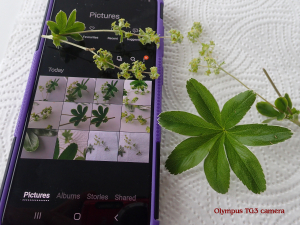 Observation - PhoneCam - UK and Ireland. Description: I am in deep deep trouble. I have a new phone with an all-singing and dancing triple-camera on boar
I am in deep deep trouble. I have a new phone with an all-singing and dancing triple-camera on board.
As a photographer I am very sceptical about such devices, how can they be as good as dedicated cameras?
.
Even putting on one side that I am still a bit inexperienced with holding it steady, of pressing the screen to fire the shutter, the results are appalling.
Oh yes, set on 'Selfie mode' with my giggly friends at the party or in Harrods getting a face makeover, this camera might be the biz for 'Soshial MeJa'. I have taken 60 pictures, about 4 are worth 'the money'. Most of the Problems will be ME, not IT, so I will look for more perfection in my next Phone-cam Observation (which may well be my last!).
.
This then is Alchemilla alpina (of sorts) in my garden. I took 12 pictures, only one is half-up to my dedicated cam.
A forum Item Here
https://forum.ispotnature.org/t/phonecam-problems/1107
- I need help!
Otherwise, as I slowly get back to my grumpy self, I am looking for photo-opportunities (of Nature) . The shops are open in Kirkwall City today, so FaceBook will be full of PhoneCam pics. Oh well.
.
One then just qualifying to the Isolation Tag - click on it.
Main navigation