Lumpy Bracket (Trametes gibbosa)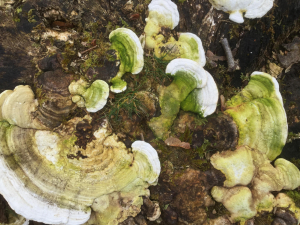 Observation - Lumpy Bracket (Trametes gibbosa) - UK and Ireland. Description: C-19 virus Isolation In need of exercise and fresh air, I went for a walk around Dunfermline Cemeter
C-19 virus Isolation
In need of exercise and fresh air, I went for a walk around Dunfermline Cemetery. It occupies a large plot bordered by houses and the football ground. As I expected it was deserted apart from myself, a handful of other people, some grey squirrels and lots of birds.
Please add the description tag isolation1 to any observations you post during the Isolation period. See full instructions in dejayM's post.
Take care and stay safe.
.
Lumpy bracket
Overlapping semi-circular brackets on the top and sides of a tree stump. The white, pale-grey zoned brackets were tough and difficult to break. Elongated pores on the underside. Lumpy bracket is usually found on Beech and other dead hardwood trees.
.
FAO Fungi Folk
Don't forget to help with the Second Chance Fungi Project. Thanks.
https://www.ispotnature.org/communities/uk-and-ireland/view/project/793453/-second-chance-fungi
Main navigation