Flat periwinkles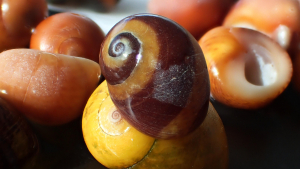 Observation - Flat periwinkles - UK and Ireland. Description: 11 pictures It's best to accept that Littorina fabalis (mariae) and Littorina obtusata cannot be sep
11 pictures
It's best to accept that
Littorina fabalis (mariae)
and
Littorina obtusata
cannot be separated from photos as "No single shell feature is diagnostic in all situations, and some features intergrade" *
.
There is often strong visual differences in these shells - colour mainly but also occasionally shape of the aperture. But the professional text is clear "...only the characters of the adult reproductive system are unequivocal" and there seems to be no escape from the conclusion that dissection is necessary.
I wonder why we need to go to species
sensu stricto
when it is so difficult, time consuming and 'intricately technical'.
.
I may have thought I was on to something when I compared this
https://www.flickr.com/photos/56388191
@N08/11083168216 (Copy/Paste) with
this
https://www.ispotnature.org/communities/uk-and-ireland/view/observation/172163/
But I was entirely wrong.
.
See comments
* Para 7 here https://flic.kr/p/RcvnFf
For the complete picture is is probably necessary to read the whole text.
Main navigation