Hellebore leaf miner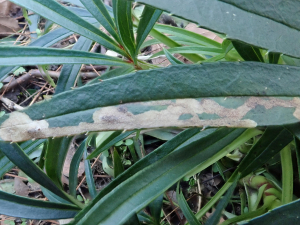 Observation - Hellebore leaf miner - UK and Ireland. Description: Old and new leaf-mines of the Agromyzid fly Phytomyza hellebori on cultivars of hellebores - probabl
Old and new leaf-mines of the Agromyzid fly Phytomyza hellebori on cultivars of hellebores - probably a variety of Helleborus foetidus - growing in the perennial border of a communal garden. The mines start as a narrow gallery but soon widen into a rather artless mine of nevertheless quite distinctive appearance, with a pale tip where the larva is still in situ. A brown blotch may form where two fly larvae mine the same leaf contiguously.
.
As far as I am aware, this is the only known leaf-miner on Helleborus. It's a relatively recent arrival in the British Isles, first found in 1999, but now widespread, presumably via garden centres and the popularity of hellebores. The larvae mine over the course of the winter, so can be looked for at this time of year.
.
The old mines on the oldest and darkest leaves are not as immediately obvious. Those on one plant shared the leaves with a kind of small silvery-white spotting on the upper surface - possibly fungal or bacterial. See photo 3 of 4.
Main navigation