No nearer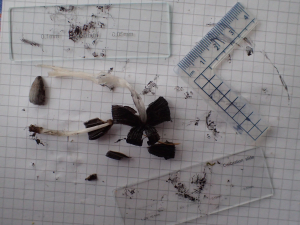 Observation - No nearer - UK and Ireland. Description: Really just and extension of https://www.ispotnature.org/communities/uk-and-ireland/view/observation
Really just and extension of
https://www.ispotnature.org/communities/uk-and-ireland/view/observation/794274/mini-ink-caps
.
I thought, perhaps, I may be able to get more detail for ID but no. I am pretty certain there is only one species
This is quite tiny at 3-4cms tall when standing, to about 9cms max (when felled) and about 3cms across the cap, none complete their expansion before collapsing and dissolving. They deliquesce very quickly, almost as soon as they open really.
.
This is late in the season and it is quite wet but I have never noticed these in the summer months.
They begin dry and grey. slightly mealy and quite narrowly conical - half cap and half stipe. The stipe is delicate and hollow and seems not to be 'made' to support the cap.
Once collapsed they cannot be handled without disintegrating.
I know that spore printing will prove nothing and suspect the spore themselves are just like ink-cap spore. they may have a blip at one end and are very slightly golden brown. I will strive for a better Micrograph
.
So I am no nearer, yet yet quite happy that I have gone far enough for the time being. I have done far more that the average fungi hunter in iSpot!
See
I hope I might find find some easier to ID one in Summer 2020
Main navigation