Mini ink caps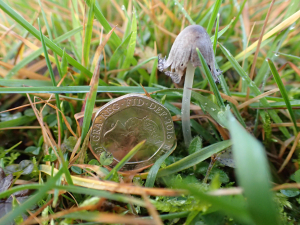 Observation - Mini ink caps - UK and Ireland. Description: It is very tempting to assume these might be Parasola plicatilis (pleateds) as they are so tiny, wit
It is very tempting to assume these might be Parasola plicatilis (pleateds) as they are so tiny, with pleat marks showing and somewhat delicate.
But I just feel these are small commons, as none were fully open before dissolving.
Coprinopsis atramentaria is incredibly variable, usually larger and and far less conical
Quite hairy gills - picture 5. Look at it enlarged
.
.
It has crossed my mind that they might be Coprinus martinii.
And then, despite them all being in the very same place, I wondered about TWO species - hence the second ID.
I feel I should do it all again tomorrow (I did) - It I can find them!
.
https://www.mushroomdiary.co.uk/2010/04/coprinus-mushrooms-small-inkcaps/
https://www.first-nature.com/fungi/coprinopsis-martinii.php
Main navigation