Double casualties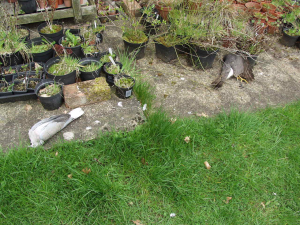 Observation - Double casualties - UK and Ireland. Description: Unfortunatley, most of my window regularly get hit by birds - fortunatley, deaths are rare, but this is a first - two in one go. The dove was untouched by the hawk - both died due to collision with a window. The picture of the collision site of the dove
Unfortunatley, most of my window regularly get hit by birds - fortunatley, deaths are rare, but this is a first - two in one go.
The dove was untouched by the hawk - both died due to collision with a window.
The picture of the collision site of the dove shows lots of crop-milk, forced from the bird's mouth - the milk is sort of hard, yellowish flecks/small lumps of curd. The bird was obviously feeding young squabs somewhere in the conifers that surround the garden.
Out of interest, I weighed them - hawk ~260g, dove ~220g.
Main navigation