Fireplace Cups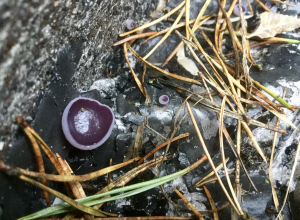 Observation - Fireplace Cups - UK and Ireland. Description: Lovely little group of cup fungi growing on burnt newspapers inside a free-standing barbecue (pic 3)
Lovely little group of cup fungi growing on burnt newspapers inside a free-standing barbecue (pic 3). Smooth and mauve coloured on the inside. Slightly paler and textured on the outside. We've found a few interesting fire specialists of late. It just goes to show that fungi can and do turn up in the most unexpected places. Either Peziza praetervisa (prefers burnt ground) or violacea (prefers burnt wood) so perhaps the most likely.
.
Found and provisionally identified by members of the local fungal group. ID tbc..
.
Wikipedia link to more information about P. praetervisa
https://en.wikipedia.org/wiki/Peziza_praetervisa
.
And, P. violacea
https://en.wikipedia.org/wiki/Peziza_violacea
https://www.first-nature.com/fungi/peziza-violacea.php
Main navigation