Parrot Waxcap - (Gliophorus psittacinus) - Hygrocybe psittacina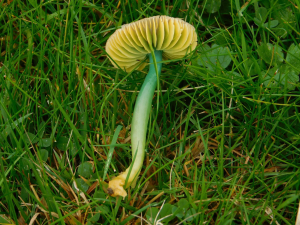 Observation - Parrot Waxcap - (Gliophorus psittacinus) - Hygrocybe psittacina - UK and Ireland. Description: For me these are the most common waxcap, they are usually the first I see and also the last. They ca
For me these are the most common waxcap, they are usually the first I see and also the last.
They can be confusing as they can be button shaped or conical and the colour can vary so much.
There is nearly always some green left in the top of the stem or inner gills but not always.
Despite them being common they always have a charm and this one has some really great colours.
The cap appeared purple in the daylight and the stipe was turquoise.
Main navigation