Splendid Waxcap - Hygrocybe splendidissima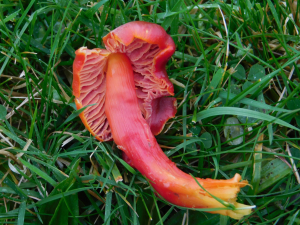 Observation - Splendid Waxcap - Hygrocybe splendidissima - UK and Ireland. Description: On today's survey we recorded 15 Waxcaps and about 10 Entoloma. I thought I would post some that are
On today's survey we recorded 15 Waxcaps and about 10 Entoloma.
I thought I would post some that are less well shown on iSpot but it's not clear which they are as the search function doesn't seem to bring much up.
So, these are a large red capped species.
Cap colour is between Scarlet and Crimson but stem is smooth (like Crimson).
Gills are darker than in Crimson and the stipe is usually somewhat contorted.
Main navigation