Shanny in the hand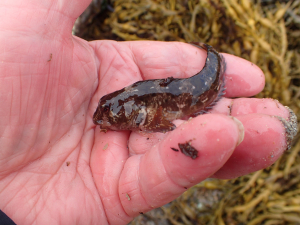 Observation - Shanny in the hand - UK and Ireland. Description: Commonly waiting for the tide to return. Most stones near the bottom-most tide line will reveal this
Commonly waiting for the tide to return. Most stones near the bottom-most tide line will reveal this or a Butterfish.
They are best identified in water and a glass jar may be best but is not a good thing to carry (perhaps drop) at the seaside.
It's best IDd from the thick pale lips and pretty large pectoral fins.
Handle carefully as they bite, bless them.
Main navigation