Dactylorhiza species identification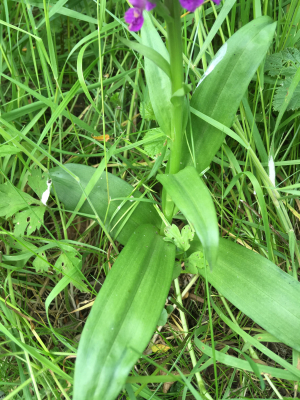 Observation - Dactylorhiza species identification - UK and Ireland. Description: Found growing in marshy grass under a mixed hedge. Leaves are unspotted. Deep purple colour and mark
Found growing in marshy grass under a mixed hedge. Leaves are unspotted. Deep purple colour and markings seem to be indistinct loops, suggesting Northern Marsh Orchid, Dactylorhiza purpurella. Around 30cm or maybe 40cm tall - I didn't have a ruler at the time.
Last year, we identified Dactlyorhiza fuchsii and Dactlyorhiza fuchsii x purpurella in the garden with help from iSpotters. This year, I seem to see several different species/hybrids so am looking for help clarifying identification. Orchids are not my strongest area. I will be uploading others. This forms part of a wildflower survey we're doing for the garden.
Our garden is surrounded by moorland.
Main navigation