Little hoppers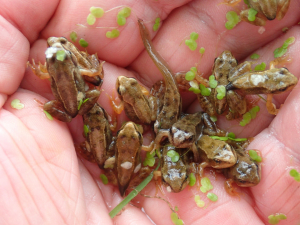 Observation - Little hoppers - UK and Ireland. Description: I can't mow the grass for these little hip-hops. Hundred and hundreds, some with tails and all hungr
I can't mow the grass for these little hip-hops. Hundred and hundreds, some with tails and all hungry to escape their watery home.
Up the grass stems, in with the flowers, struggling in the stones, in the way of the Flymo!
it's a specially good year, the earliest spawning ever (16 Feb) and the greatest amount of spawn. It all disappeared almost overnight, I suppose a duck visit, despite my attempts to protect the spawn. But I have another, small pond, away from the open garden, away from view, so I replaced it all. I'd say every single egg survived in both ponds! Hooray for planning.
.
Added to my Garden Project here
https://www.ispotnature.org/communities/uk-and-ireland/view/project/278717/
Main navigation