Common Blue mussel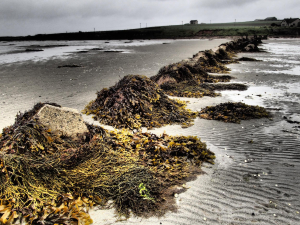 Observation - Common Blue mussel - UK and Ireland. Description: I have 'taken you' to this location before - see https://www.ispotnature.org/communities/uk-and-irel
I have 'taken you' to this location before - see
https://www.ispotnature.org/communities/uk-and-ireland/view/observation/778723/
It is now on my regular beat for investigation.
These are Wartime tank-traps, to stop unwanted enemy vehicular access to Mainland Orkney. There are both historically and ecologically valuable features.
The furthest-out one is only completely uncovered for two hours in each tide cycle. This one is covered in aged mussels. These are fine to eat (I know) but take some cleaning. Mussels may live for over 18 years - so it does seem a pity to eat them!
https://www.marlin.ac.uk/species/detail/1421
Main navigation