Hurrah for Nettles 1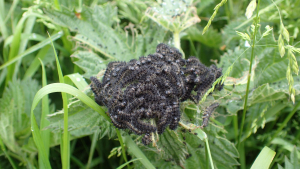 Observation - Hurrah for Nettles 1 - UK and Ireland. Description: Let's hear it for nettles! I do not nurture them, neither do I dig them up and burn them, as is rec
Let's hear it for nettles! I do not nurture them, neither do I dig them up and burn them, as is recommended to gardners. We may not like to cuddle them but you have to admit they have character. we should all investigate the nettles.
Just watch out for those syringes (picture 5) full of a mix of formic acid, histamine and acetylcholine. a hellish irritant for us but not for these little larvae and the hundreds of other insects that frequent nettles, no problem.
.
A nice little book..
https://pelagicpublishing.com/products/insects-on-nettles
Main navigation