Starter for 10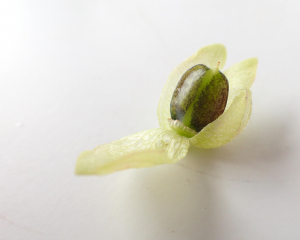 Observation - Starter for 10 - UK and Ireland. Description: ANYONE? Nice, tough little plant. Beginning with just the unripe seed .. Not scurvy grass. 2nd pic
ANYONE?
Nice, tough little plant.
Beginning with just the unripe seed
..
Not scurvy grass.
2nd pic added - leaf stem
not Umbelliferae, though I can see why you thought it
.
3rd picture added. This is from my gorgeous hay meadow and here are four of the nearby plants, you'd know well
4&5 added
.
Flowers added - Yellow rattle not yet rattling.
I think the first three pictures alone are tough - yes?
I would hope that you might reach to Sub Sp.
Main navigation