Dabberlocks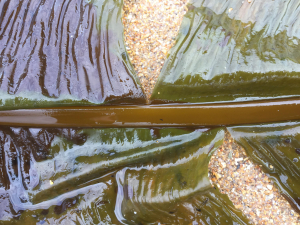 Observation - Dabberlocks - UK and Ireland. Description: The prominent midrib and spear-shaped membranous fronds can only mean one thing. Dabberlocks! I've f
The prominent midrib and spear-shaped membranous fronds can only mean one thing. Dabberlocks! I've found it before and know that it can grow up to 1.5 metres in length but was still surprised by the reality of this. Truely a giant from the deep.
.
Crakvaig Beach is beautiful and accessed via a single track 'road' of sorts. Note, Newton said what goes up, must came down. There is no guarantee that cars what go down, come up. Be careful!!!
.
Have a look at some of the best Seaweed posts on iSpot - The Seaweeds Invitation Gallery.
https://www.ispotnature.org/communities/uk-and-ireland/view/project/777036/the-seaweeds-invitation-gallery
Main navigation