Greater water-moss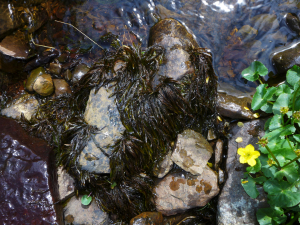 Observation - Greater water-moss - UK and Ireland. Description: GR correct to 1 metre . Adding nothing to science but now part of my. https://www.ispotnature.org/c
GR correct to 1 metre
.
Adding nothing to science but now part of my.
https://www.ispotnature.org/communities/uk-and-ireland/view/project/769578/
.
It took me a while to realise this weed was a moss and to then discover how common it is. Everyone except me thought it a moss - mosses are not weeds!
"Well known even to non bryologists" is written in many references, Oh well. I took solace in the fact that there are only 8 Other Obs. and none for two whole years!
.
It complies with the description details in my Watson's** 'approachable guide' which has become valuable whilst sitting unused in my collection. I need to use it more.
Anyway, this is attached to stones and is prolific in the stream, though is often dry and marooned.
At home in fresh water it is better behaved than a seaweed.
**
https://www.summerfieldbooks.com/british-mosses-and-liverworts~486
Main navigation