Low Passes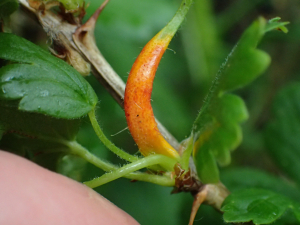 Observation - Low Passes - UK and Ireland. Description: Unusual forms for the Gooseberry Puccinia. On some leaf stems and fruit, as well as leaves. Isolate
Unusual forms for the Gooseberry Puccinia.
On some leaf stems and fruit, as well as leaves.
Isolated and discrete 'clumps' with clear aecia (cluster cups) and spermogonia (dark conceptacles on central red areas) - Picture 4
Close-to it is an alien World, so I took some very low passes over its landscapes
Picture 9 uses the on-board low resolution camera (UV-x light at appx 242 µm)
Picture 10 via band‐pass interference filters (IR range 430 - 100 THz)
.
Partnered with -
https://www.ispotnature.org/communities/uk-and-ireland/view/observation/780642/
Main navigation