Hoverfly - Parhelophilus versicolor - perhaps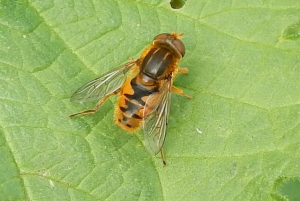 Observation - Hoverfly - Parhelophilus versicolor - perhaps - UK and Ireland. Description: This was markedly different in that it looked so orange that I didn't even recognise it as a hoverfl
This was markedly different in that it looked so orange that I didn't even recognise it as a hoverfly until I enlarged the photo on camera.
Unfortunately the orange has not been truly captured in the photos.
Two feint lateral grey markings on the head and the markings on the abdomen, combined with orange colour lead me to Parhelophilus versicolor
However I understand examination of genitalia is required to be sure but I welcome comments.
Main navigation