Encrusting seaweeds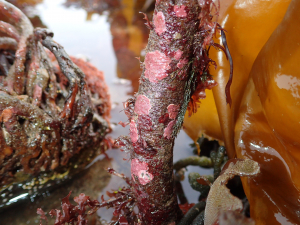 Observation - Encrusting seaweeds - UK and Ireland. Description: It's nice to be a pretend Marine Biologist again and to find something I like sharing, to know some
It's nice to be a pretend Marine Biologist again and to find something I like sharing, to know some of the detail and to know that one photo is never enough!.
The lowest of all tides and with enough fine weather and light do justice to the 15 other lovelies I found - I returned home with 85 photos.
.
These hard, encrusting seaweeds are really not possible to bring to species without high grade lab investigation. It is probably necessary to look at the hidden undersides and to chemically dissolve the outside material away to leave the algal cells for microscopic analysis. Sometimes two or more species combine to form these algal crusts.
There may be over 50 genera in this family.
Main navigation