Squat lobster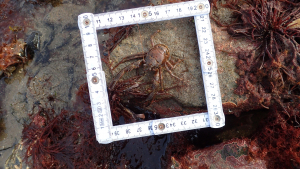 Observation - Squat lobster - UK and Ireland. Description: It's nice to be a low-level Marine Biologist again, it's specially nice to handle something really d
It's nice to be a low-level Marine Biologist again, it's specially nice to handle something really delightful and know to take more than enough photos to use all the home-resource before posting here.
The lowest of all tides and with enough fine weather and light do justice to the 15 other lovelies I found - I returned home with 85 photos
.
Sometimes its unnecessary to go beyond genus, even family. Not because we find it more difficult but because it might be best to achieve satisfaction than wonder whether it might be right or suffering the embarrassment of being wrong. Moreover I think it sometimes quite sufficient to encourage IDing to Genus because far more detail in photos or description is often needed and not everyone is up to that.
I have done Squat Lobster before and I can promise it is no easy task holding them in one hand with camera in the other!
.
The name for squat lobster in the Species Drop-down menu is Munida rugosa
Whilst these pictures are probably of Galathea squamifera, look here
http://species-identification.org/species.php?species_group=crustacea&menuentry=soorten&id=158&tab=beschrijving
and click the next species and the next (rightwards) to see some of the detail required.
Main navigation