Dead Elder Tree, Conical Bumps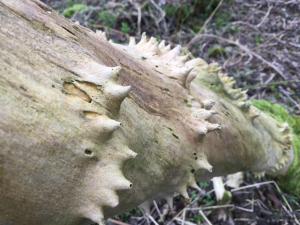 Observation - Dead Elder Tree, Conical Bumps - UK and Ireland. Description: I'm curious to know what caused the conical bumps on this tree. Wondering if openings in the bumps
I'm curious to know what caused the conical bumps on this tree.
Wondering if openings in the bumps indicate an exit hole in a Gall. Or perhaps signs of disease.
The tree was barely standing and could be wobbled from side to side.
Note the Jellyears, perhaps the tree is Elder. Alder, Oak, Holly, Birch, Aspen and Conifers nearby.
Habitat: Ancient woodland (somewhat neglected).
Main navigation