Mystery subterranean mushroom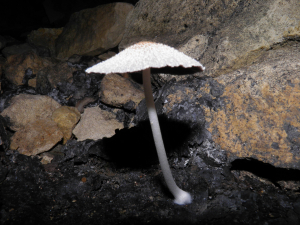 Observation - Mystery subterranean mushroom - UK and Ireland. Description: This is one of the fungi species i mentioned seeing down a disused Cotswold stone mine in a previous
This is one of the fungi species i mentioned seeing down a disused Cotswold stone mine in a previous post:
https://www.ispotnature.org/communities/uk-and-ireland/view/observation/773874/standing-under-a-beech-tree
Unfortunately, this is the only shot i can find and i'm afraid i didn't take any notes or measurements at the time.
Description (as best i can remember, it was a few years ago):
Cap around 12 cm, generously adorned with small, pointed scales (red-brown in colour in the centre) and tapering to a very thin, slightly wavy margin. Vague umbo. Flesh thin. Gills crowded, brown.
Stipe around 25 cm, white, very slender and rather silky. No obvious sign of a ring.
Abundance: solitary.
Substrate: bare soil on limestone at the side of a 'gallery'.
The habitat outside the mine was scrub/young deciduous woodland.
I don't know what this is but have considered one of the Dapperlings (Lepiota and related) and also Leucoagaricus and it's brethren. However, the gill colour and lack of stem ring keep throwing me.
I didn't get any id suggestions from my fungus group.
Would be very appreciative of others thoughts, even if it's just to confirm or otherwise that i'm thinking along the right lines or say what they think it isn't.
Thank you!
Main navigation