Low passes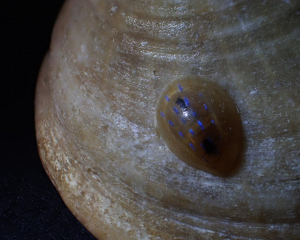 Observation - Low passes - UK and Ireland. Description: Let me explain. These are the shells of the lovely limpet Patella pellucida, a name that iSpot doesn
Let me explain.
These are the shells of the lovely limpet Patella pellucida, a name that iSpot doesn't much like, so I will call it Helcion pellucidum for now.
First seen when really tiny, at about 2mm long, on the underside of Kelp fronds, they grow quickly and, inside their first year, migrate downwards to the thick stems of the kelp and there, settle to eat their way into a feeding depression. Many of them survive the storm-seasons for a few years, maybe 4 and there they gather a few passengers. Little worlds of keel- and spiralis-worms and crustose bryozoan colonies
Sooner or later, the by now much enlarged, blue rays get detached and their shells come ashore.
And it is there, mixed with other shells they will be found - I have over 200 and cannot resist searching
Low passes, or fly-bys, ar expressions used by planetary explorers. My scapes are a little other-worldly.
I made two discoveries recently. On one shell (Picture 1), a perfect mini blue-ray, preserved adhering to the planet's surface of a much oder example - a very rare occurrence I think. And Picture 13 (next to 1) a perfect impact crater (there are three), left by a mini blue-ray that lived there for a while, in fact the desiccated body is still there. That must also be very rare.
.
My umpteenth Blue-ray observation. It may not be my last. Here's my first which needs a little attention, a shift of Likely!
https://www.ispotnature.org/communities/uk-and-ireland/view/observation/169301/blue-rayed-limpet
Main navigation