Elder Resupinate Crust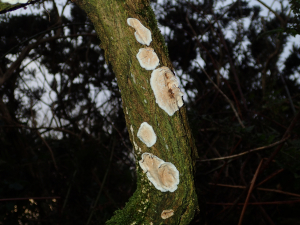 Observation - Elder Resupinate Crust - UK and Ireland. Description: Partnered with https://www.ispotnature.org/communities/uk-and-ireland/view/observation/775407/elder-
Partnered with
https://www.ispotnature.org/communities/uk-and-ireland/view/observation/775407/elder-resupinate-2
.
A gorgeous and prolific, pale, loose 'flannel' on the underside of Elder, not far from bright Tremella mesenterica (Yellow Brain) and its host Peniophora incarnata (Pink Crust).
In the poor light of late afternoon, this was a beacon of glowing reflected light that I saw it from many yards away.
This was a pale sheet in places, with light brown blends and ears of finely coloured brackets
I can find no evidence for that eared form on the web but this was most definitely a resupinate.
I may add some more pictures after another visit.
.
ADDED a Pore picture
SEE COMMENTS
Main navigation