Hawkweed Aphids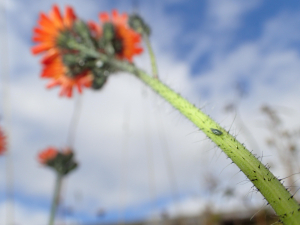 Observation - Hawkweed Aphids - UK and Ireland. Description: I am not specially proud of the photography but, for now, it's the best I can do and may have to suf
I am not specially proud of the photography but, for now, it's the best I can do and may have to suffice until next year.
Who would know? Well Bob Dransfield and I am awaiting his verdict and you will be the second to know.
These are VERY likely to be N.pilosellae as there really is no lookalike - see
http://influentialpoints.com/Gallery/Nasonovia_pilosellae_Hawkweed_aphid.htm
but keying out is not very easy - I am not up to clarified mounts!
This will be the second UK record BUT, I suspect, they are common and not recorded because they are so difficult.
In the very short time I have known these, I have made some discoveries - MIGHT picture 6 be a rare shot of birthing, they are viviparous.
And picture 8 shows a paracitized specimen from which, during the three days of study, the braconid wasp emerged - picture 9
Main navigation