The phone and the Campion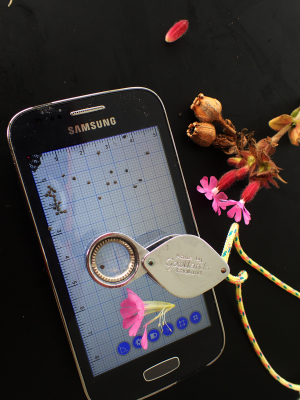 Observation - The phone and the Campion - UK and Ireland. Description: 1 of (eventually) 3 posts about phonecams. . The phone is being used more and more for Observations
1 of (eventually) 3 posts about phonecams.
.
The phone is being used more and more for Observations and iSpot is building into a better and better Database.
The phone can be used to great advantage, for far more than one-shot-posts though.
.
Here we see how the PhoneCam can be used for real close-ups.
The eye glass is necessary if you want to be a real Naturalist and it can be attached to your phone. do not be tempted to buy greater than x10 though
And do not expect instant quality nor for it to be specially easy, but it's really cool for Observations.
.
There is a glimpse here of some useful Apps. I will cover some in the 2nd of 3 posts about phonecams
A few, not all, of these pix are taken on my cheap phone with the eye glass attached - any magnifying glass would do. The seed picture is taken with my cheap phone.
Samsung Galaxy Ace3 (5Mpx camera)
.
Read Rachy Ramone -
http://tree-and-shrub-id.blogspot.com/p/how-to-close-ups.html
EDIT Added Tag
Main navigation