small-flowered mallow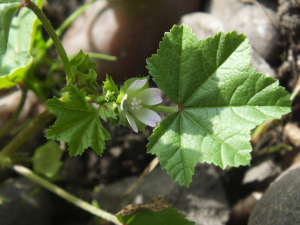 Observation - small-flowered mallow - UK and Ireland. Description: Small-flowered mallow growing in gravel path in the walled garden at Rode Hall, Cheshire. Flower se
Small-flowered mallow growing in gravel path in the walled garden at Rode Hall, Cheshire.
Flower seemed rather small for Malva neglecta, which is the commonest small-flowered mallow in Cheshire, but not so small that I rejected that identification out of hand. The petals were also more pigmented towards their apices (reminiscent of Malva verticillata, which this clearly isn't) which is not a trait I've previously seen in Malva neglecta, so I took some photographs for later study.
Identified as Malva parviflora from fruit characters. The reticulate mericarps distinguish this from Malva neglecta, and the near circular fruiting calyx is a confirming character. Identification confirmed by BSBI ex-referee for Malvaceae, who reminds me that I could have checked the flowering sepals, which are comparable in size to the petals.
Possibly a county first record; the BSBI maps site has a hectad-precision for Merseyside, which could be either side of the river (though I expect that the actual record is clear on which side), and there's also the possibility of an old record not determinable to hectad. The nearest recent records are from Burton-on-Trent, so I'm saved a twitching expedition to Derbyshire.
Main navigation