Wing remnant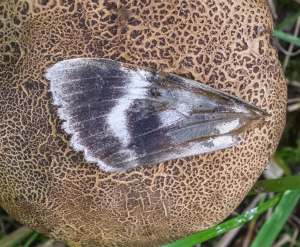 Observation - Wing remnant - UK and Ireland. Description: I found this old wing remnant while looking at fungi. As it was obscured by grass, I used this Earth
I found this old wing remnant while looking at fungi. As it was obscured by grass, I used this Earthball to rest it on while I photographed it.
The wing is about 25mm across, but pretty damaged and I suspect very faded, so any colour has disappeared.
I can't even tell if it is a butterfly or moth wing, but I can't see what else it could be.
Any ideas?
Main navigation