Glabrous-headed Hawkweed - Hieracium vagum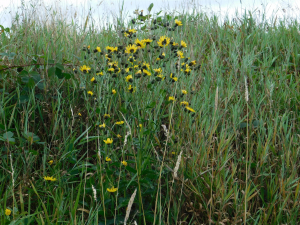 Observation - Glabrous-headed Hawkweed - Hieracium vagum - UK and Ireland. Description: I bought a farm last year and have been trying to record every plant species. This is forcing me to
I bought a farm last year and have been trying to record every plant species. This is forcing me to look at some of the more difficult groups (ignoring Taraxacum for now).
I have looked at local leafy Hawkweeds before and always come to the same conclusion so I'm hoping somebody will be able to check this.
I'm using Vincent Jones' Yorkshire Hawkweeds to key out the specimen.
First the key to sections.
Basal leaves absent at flowering; stem-leaves more than 8 - that's a definite.
Middle leaves not clasping the stem, not reticulate-veined beneath - pretty sure.
Stem leaves usually more than 15; starting to flower in early to mid August - yep.
Leaves heterophyllous; outer phyllaries not lax; styles dicoloured - definitely this one.
That takes me to Section Sabauda
Phyllaries eglandular or with at most a few glandular hairs - they look totally glabrous but under the scope I can see a few glandular hairs and some stellate hairs.
Middle and lower leaves remotely denticulate or shortly dentate - definitely not serrate (the other option)
Styles discoloured - yes.
And that is it, H vagum forma vagum.
The only problem is that in the distribution maps it looks like Vincent has never been to my area as none of the species have dots here. On the BSBI map there is a hit in my square.
Main navigation