Greater Horntail (Urocerus gigas)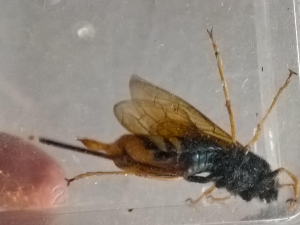 Observation - Greater Horntail (Urocerus gigas) - UK and Ireland. Description: Surprised to see this fly past the window while we were having lunch. It cooperated by landing on a
Surprised to see this fly past the window while we were having lunch. It cooperated by landing on a garden chair. A 1st Midlothian record?
Edit: on 4mm grid; overall length (less antennae) ~ 40mm.
Edit: further photo added.
Edit: Confirmed as 1st Midlothian record.
Edit: Photos disappeared. Replaced ... but they may not be exactly the same pictures, though of the same specimen.
Edit: Further photo with better view of abdomen added.
Main navigation