Shield Bugs Hatching (1)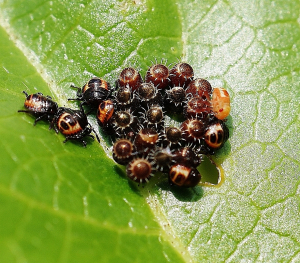 Observation - Shield Bugs Hatching (1) - UK and Ireland. Description: A sequence of shots showing the hatching of shield bugs. The first picture shows a newly hatched nymph at two o'clock and a hatching nymph in the second row from the bottom and second from the left. Lapsed time was just over one hour. The nymphs exi
A sequence of shots showing the hatching of shield bugs. The first picture shows a newly hatched nymph at two o'clock and a hatching nymph in the second row from the bottom and second from the left.

Lapsed time was just over one hour.

The nymphs exit the egg through a 'lid', they do not smash their way out like birds.
Main navigation