Brown Tail Moth web & catarpillars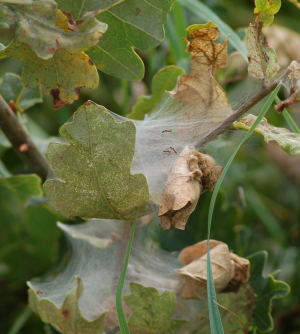 Observation - Brown Tail Moth web & catarpillars - UK and Ireland. Description: There were a few of these webs, all on oak and covered an area of about 1.5 metres. I saw no spider, but on 'Interesting web (3)' there is a critter at the bottom left corner. I have enlarged one of the photographs and it shows some grubs; will this help
There were a few of these webs, all on oak and covered an area of about 1.5 metres. I saw no spider, but on 'Interesting web (3)' there is a critter at the bottom left corner.
I have enlarged one of the photographs and it shows some grubs; will this help with ID?
I have added two more photographs to show the grubs that were on the web. They have a brown spot along the back.
Main navigation