SL702759.JPG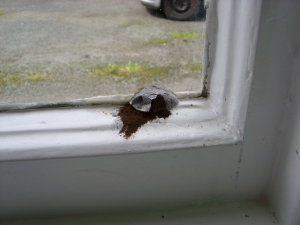 Observation - SL702759.JPG - UK and Ireland. Description: size-approx 4 cm max width this was on the window frame for a couple of weeks before i got so curious i burst it, it took a bit of a poke before it burst. It started brown and then went white. I have established it isn't dry rot, which was what really c
size-approx 4 cm max width
this was on the window frame for a couple of weeks before i got so curious i burst it, it took a bit of a poke before it burst. It started brown and then went white.
I have established it isn't dry rot, which was what really concerned me, but does anyone know what it might be?
Main navigation