male sand lizard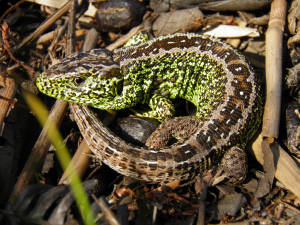 Observation - male sand lizard - UK and Ireland. Description: compared to the other native Lacertid (Zootoca vivipara - in a Genus by itself) a rather chunky lizard with very specific habitat requirements. namely coastal sand dunes and lowland heath. the markings of southern UK specimens differ fom those found on s
compared to the other native Lacertid (Zootoca vivipara - in a Genus by itself) a rather chunky lizard with very specific habitat requirements. namely coastal sand dunes and lowland heath.
the markings of southern UK specimens differ fom those found on sand dunes north of Merseyside.
elsewhere in Europe the species is found in other habitats and varies in appearance further. some populations having (among many variations) red markings.
Main navigation