IMG_2445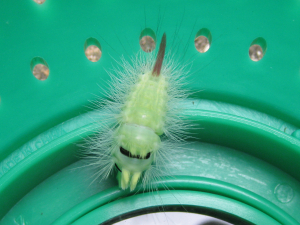 Observation - IMG_2445 - UK and Ireland. Description: About 2cm long,pale green, even eyes, very hairy with prominent brown spike 0.5cm long at tail end. Two groups of pale green hairy extensions near head. When picked up it tucked head under to reveal 2 bands of black, one behind the head and the other bet
About 2cm long,pale green, even eyes, very hairy with prominent brown spike 0.5cm long at tail end. Two groups of pale green hairy extensions near head.
When picked up it tucked head under to reveal 2 bands of black, one behind the head and the other between the extensions.
Could be newly moulted, it was walking round the rim of an incinerator.
Main navigation