Red Admiral - newly emerged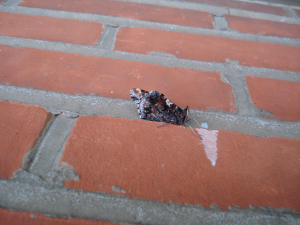 Observation - Red Admiral - newly emerged - UK and Ireland. Description: This photograph has sat on my computer for nearly 10 years, untouched and unidentified but in an attempt to have a tidy up of files, I tried to find the answer. I first saw a photo of a newly emerged Red Admiral in Collins Complete Guide to British Butte
This photograph has sat on my computer for nearly 10 years, untouched and unidentified but in an attempt to have a tidy up of files, I tried to find the answer.
I first saw a photo of a newly emerged Red Admiral in Collins Complete Guide to British Butterflies and Moths and a further search on the web brought me to the following website where the evolution of a Red Admiral is charted from caterpillar to adult with an almost identical photo to mine although much clearer! So I am pretty certain of my identification.
This was in my early days of digital photography so rather poor result.
Main navigation