Green shrub, white flowers, pink bracts, red berries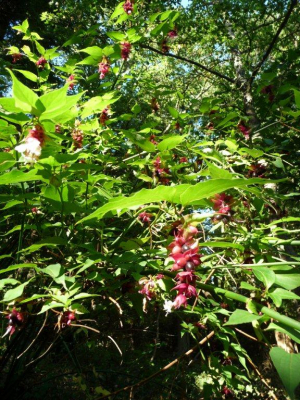 Observation - Green shrub, white flowers, pink bracts, red berries - UK and Ireland. Description: Growing isolated in an oak wood on Exmoor. It's a plant, a shrub, about 2 metres tall. Oval pointed leaves about 15cm long, 5cm wide. Succulent stems, almost like bamboo. Flowers are distinctive, have some similarity to fushia or Himalayan honeysuckle
Growing isolated in an oak wood on Exmoor.
It's a plant, a shrub, about 2 metres tall.
Oval pointed leaves about 15cm long, 5cm wide.
Succulent stems, almost like bamboo.
Flowers are distinctive, have some similarity to fushia or Himalayan honeysuckle.
BUT, they have white flowers, red/pink bracts and bright red berries about 10mm diameter.
Main navigation