Insect 004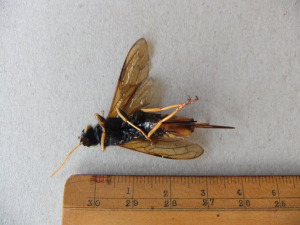 Observation - Insect 004 - UK and Ireland. Description: This horrible thing came to visit and got swatted. I've never seen another one but it resembles some type of hornet, we have those around here in small numbers, they attack our outside light every night. On this creature, what appears to be a sting of so
This horrible thing came to visit and got swatted. I've never seen another one but it resembles some type of hornet, we have those around here in small numbers, they attack our outside light every night.
On this creature, what appears to be a sting of sorts is over 10mm in length.
Does anyone have any ideas as to what this thing is?
Main navigation