Crustacean Larva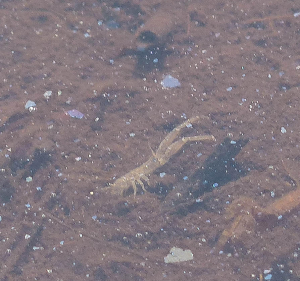 Observation - Crustacean Larva - UK and Ireland. Description: I submitted this observation last year but, so far, no one has come up with a precise identification
I submitted this observation last year but, so far, no one has come up with a precise identification. I have cleaned up the pictures and hope for success this time
Pic taken from some distance away through water. This shrimp-like creature was moving around the floor of a pool. About 20mm in length and at first sight kept the long front appendages pointing straight forward. Only later were they observed to be jointed. Whiter than in the pic.
Regarding the habitat, the Mud Shrimp was living in the shallows of Nicholson Pill, a small stream draining Oxwich Marsh. This is mainly a freshwater environment but lack of water plants and close proximity to areas flooded at Spring Tides, suggests that there is some contamination from salt water.
Main navigation