Unknown plant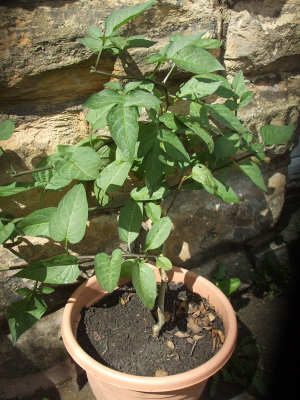 Observation - Unknown plant - UK and Ireland. Description: I know this is a long shot but can anyone tell me what this plant is by the leaf? It just sprang up so I dug it up and put it in a pot just in case its one of those invasive vine climbers. it's a young plant and looks like it could be a shrub or climber
I know this is a long shot but can anyone tell me what this plant is by the leaf?
It just sprang up so I dug it up and put it in a pot just in case its one of those invasive vine climbers.
it's a young plant and looks like it could be a shrub or climber, I've pruned it back because it was spreading low to the ground.
PS: Its quite confusing because the bottom leafs are a different shape.
Main navigation