Baudoinia compniacensis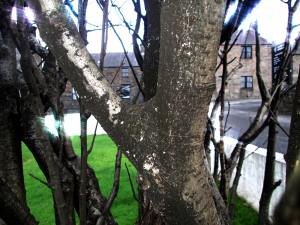 Observation - Baudoinia compniacensis - UK and Ireland. Description: Really a support observation for HB's post here http://www.ispotnature.org/node/841212 the name is '
Really a support observation for HB's post here
http://www.ispotnature.org/node/841212
the name is 'trouble' It is correctly known as Baudoinia compniacensis and its old name is Torula compniacensis. Unfortunately only the old genera name is in the UKSI Dictionary. This is why I have tried hard to display its proper name in the Common name box.
This fungus has been known about for a long time, though it is very poorly recorded.
I would have preferred to find it in profusion but this one visit was in poor lighting and hardly a thorough investigation, yet it convinced me of its presence.
See
https://en.wikipedia.org/wiki/Baudoinia_compniacensis
See Comments
EDIT - added Tag
Main navigation