Long-legged spider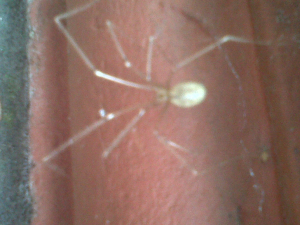 Observation - Long-legged spider. Description: My apologies for the blurriness, at the time I did not have a suitable camera on my person. Found hanging on a wall near a buss stop in Cardiff City. I haven't seen a spider quite like this before. It was reasonably large bodied with long legs. The
My apologies for the blurriness, at the time I did not have a suitable camera on my person.

Found hanging on a wall near a buss stop in Cardiff City.

I haven't seen a spider quite like this before. It was reasonably large bodied with long legs. The legs also had small spines on them.
The Abdomen was a creamy colour with a light grey pattern.