Unknown moth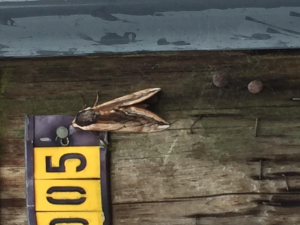 Observation - Unknown moth - UK and Ireland. Description: On my walk to work in the morning I spotted this moth from across the road. It measures approximately 3.5 inches. It caught my eye and I decided to snap it. The moth seemed completely immobile, and 7 hours later when I returned from work it was still in t
On my walk to work in the morning I spotted this moth from across the road. It measures approximately 3.5 inches. It caught my eye and I decided to snap it. The moth seemed completely immobile, and 7 hours later when I returned from work it was still in the exact same position. The area I found her in is a busy road with very little vegetation.
In my area I had never seen a moth like this before.
I do live in a coastal area.
Main navigation