Bracket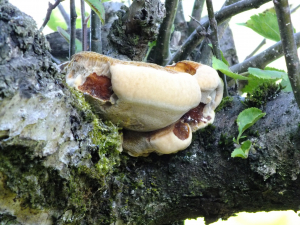 Observation - Bracket - UK and Ireland. Description: Photographed on the branch of a very old apple tree, this bracket was white underneath and with a yellowish top which was honeycombed below.under this was a reddish brown sponge like centre. It appeared that either something had tried to eat it on the le
Photographed on the branch of a very old apple tree, this bracket was white underneath and with a yellowish top which was honeycombed below.under this was a reddish brown sponge like centre.
It appeared that either something had tried to eat it on the left of the picture, but looked almost as if had exploded leaving a trail of slime on the branch.
The second photograph is an older fungus of the same type further along the branch.
Main navigation