Guelder Rose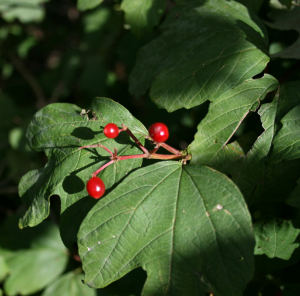 Observation - Guelder Rose - UK and Ireland. Description: Leaves are in three sections with pointed ends. The largest leaves are 8cm from base to tip. Leaf edges vary from smooth to slightly serated. The veins are very pronounced on the rear. The stalks have a purple tint, especially to the front but are pal
Leaves are in three sections with pointed ends.
The largest leaves are 8cm from base to tip.
Leaf edges vary from smooth to slightly serated.
The veins are very pronounced on the rear.
The stalks have a purple tint, especially to the front but are paler green on the back.
There are no seed pods as there would be on a sycamore related plant.
The berries are yellow at the base and red on top, presumably under-ripe at this stage.
Berries are clustered and approx 5mm in circumference.
* Additional photos added on 12th Sept 2011 when berries much redder/riper.
Main navigation