Unknown small tree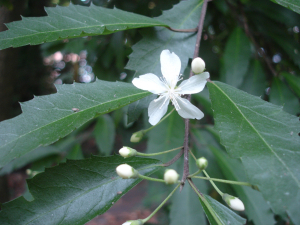 Observation - Unknown small tree - UK and Ireland. Description: Previously posted this last September but without much luck - see http://www.ispot.org.uk/node/74155. It has now flowered but I still don't know what it is. Small tree with long droopy shoots very close to trunk. Dark green, saw-toothed, alternate leaves
Previously posted this last September but without much luck - see http://www.ispot.org.uk/node/74155. It has now flowered but I still don't know what it is.
Small tree with long droopy shoots very close to trunk. Dark green, saw-toothed, alternate leaves and small fruit shaped like a propeller with 5 blades (photo from 31/08/10). Evergreen. Pitted grey bark.
White flowers, five petals, 25mm across.
Although this is a tree it is in a fairly dark, confined area so possibly it is normally more shrub-like.
Main navigation